Recently, we received an inquiry about Condenser dryer Frigidaire FD618CVM (DH-520C) x 40 pc. The buyer is an older customer of our company. This time, they need these dehumidifiers for an offshore wind farm in Taiwan to protect the transition piece and the installed electrical devices from the increased humidity in the air from relative ventilation moisture and uncontrolled water condensation.
The client requested the Dehumidifier capacity at 20liters per day at 30 Celcius degree and 80% RH. The technical details as follows.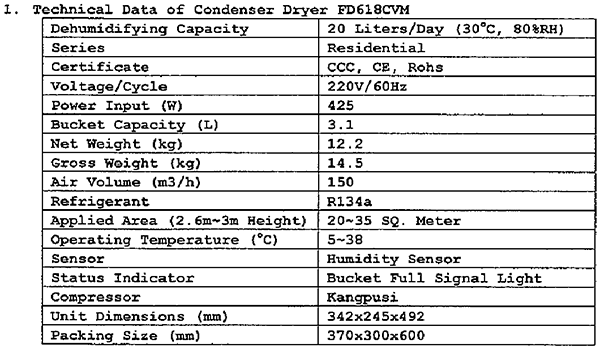 According to these specifications, we checked with our suppliers and found they have stock for DH-520C Dehumidifier. The problem is the requested voltage/cycle is 220V/60Hz and the stocked items are 220V/50Hz. Also, since the end-user need Frigidaire brand. and Frankly, we do not have this brand. We offered our Made in China brand instead.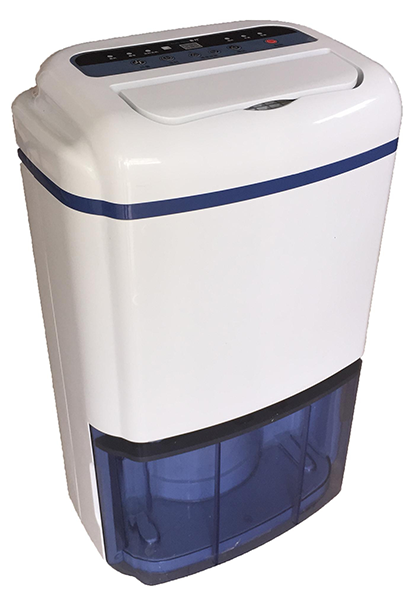 Since this is new to the end-user, they need to confirm to following to check if our product meets their requirements.
a. Water Level Detection and Automatic Shut-Off.
b. Removable Water Tank or Continuous Drainage.
c. Washable, Activated Carbon Filters.
d. Refrigerant R134a.
e. Micro-Computer Control System.
f. Humidity Set at Will.
g. Negative Ion for Sterilization.
h. Defrost Automatically.
i. Three Minutes Delay Protection of Compressor.
And the client needs a detachable plug for power supply since they do not have a plugboard and they just have a power cord left for this dehumidifier. Besides, they also need the detachable plug to be used for a power cord with an 11mm out diameter.
Finally, We checked all the requirements and found our product exactly meets the client's requirements, including the detachable plug and other requirements. Due to our competitive offer and short delivery time of around 20 days, we get the purchase order for this 40 sets of DH-520C Dehumidifier.
After receiving the payment from our customer, we arranged our factory to start production. Since the factory has flow line production, most time they are just waiting for the detachable plug and the compressor and other materials needed. Once all the materials ready, it only takes around 2~3 days to finish the whole 40 sets of dehumidifiers.
As planned, the factory finished the whole production within 20 days upon payment. About 5 days before finished production, we send them a packing list to our forwarder to book the shipping. As soon as the order is good to ship, we delivered the whole order to our forwarder's warehouse to waiting for the Custom paperwork. Usually, it takes around 2~3 days. The order delivery terms are CFR KAOHSIUNG, We loaded and paid the sea freight, also we informed our customer to buy the insurance for the order. And then we send the commercial invoice and packing list along with the house bill of lading to our customer.
Luckily, the order delivery is very smooth and fast, the customer is satisfied with our products and service.